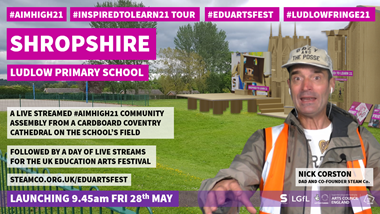 28th May - An exciting Arts day!!!
The links are
Facebook/YouTube Link  - these links are:
I hope that you saw on our newsletter the advance notice of our #AIMHIGH21 day on Friday, 25th June 2021 being coordinated by STEAM Co (some of you will remember the STEAM days a few years back).

I am delighted to let you know that tomorrow, at 9.45am, we will be having a live assembly to launch the day.

Please join us and read the following information with all the details.

INVITATION: #AIMHIGH21 LIVESTREAMED ASSEMBLY FROM THE SCHOOL FRI 28th MAY

Dear parents/carers

We are delighted to invite you to an #AIMHIGH21 assembly at 9.45am on Fri 28th May which will be live streamed to the country from a Coventry cathedral that is being built from cardboard, code and a bit of imagination on our school playing fields.

It is all part of a project by STEAM Co. a national project led by Nick Corston who was one of the first pupils here at the school when it opened in 1970. He will tell us about some exciting projects he will be running as Patron of this Years' Ludlow Fringe Festival and an exciting project we'll be part of in June

This will be live streamed publicly to Facebook and YouTube - and we hope you'll join us and share your thoughts.


Date Published: 27 May 2021